Sisters in Harmony global Series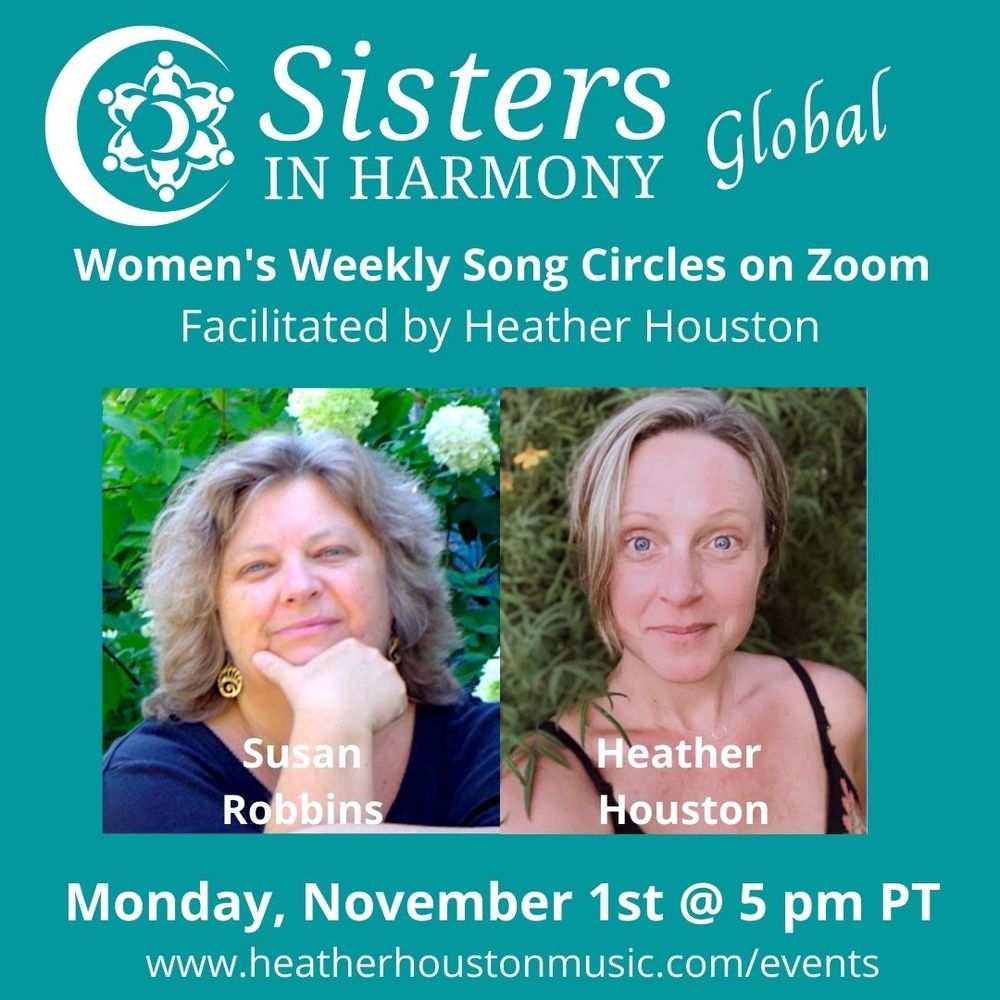 Libana's Artistic Director Susan Robbins joins Heather Houston ~ Come sing!
MONDAY, nOVEMBER 1
8-9:45 PM EDT, 5-6:45 PM PT
Suggested donation: $20
Susan and Heather offer you powerful songs for these transformational times we are living in. We'll dive into vocal meditation and collective prayer, mantra, heart-opening songs, soulful songs, fun songs, and songs that invite us to dance!
Learn heart-opening songs for the journey.
Feel fortified, connected, and uplifted.
Let's feel the power of our global community!
Come Sing your grief, gratitude, prayer, and praise within the safe container of a women's circle.
Please bring an item for the altar and a candle to light. Have your shakers, drums, guitars, chimes, and shruti boxes at the ready.
Donations:
Suggested donation: $20
Thank you so much for your donations. This is a tough time for many, and musicians are no exception. Heather offers a generous percentage of profit to her guest artists.
10% of your donations for the month of November will go to our local Amah Mutsun Land Trust. Committed to conserving and restoring indigenous cultural and natural resources within the traditional territories of the indigenous Mutsun and Awaswas peoples. The people of the Amah Mutsun Tribal Band, collectively referred to by many as "Ohlone," are the indigenous peoples of the territories ranging from Año Nuevo to the greater Monterey Bay area.
Registration:
Registration for this special event is handled differently than Susan's ongoing Zoom Sings; please click here, or use the button at the bottom of this page. The ZOOM LINK will be sent out in the initial reply email from EVENTBRITE, and then again two days before, two hours before, and again twenty minutes prior to the event, TO THE EMAIL YOU USED ON EVENTBRITE. It will be sent FROM EVENTBRITE.  Please check your spam folder.
THE ZOOM SING WILL BE RECORDED - a replay will be sent out to all ticket holders.
About Susan:
Susan Robbins is the Founder and Artistic Director of the internationally renowned world music & dance ensemble Libana, which over the past four decades has illuminated the creativity, vision and spirit of women worldwide. In addition to touring North America from coast to coast, Libana has appeared at international folklore festivals in Bulgaria, spent three weeks performing and teaching in North India, and was invited to perform at the Tangier World Music Festival-- expanding that concert experience with an incredible performance and research tour throughout Morocco. Libana's ten CDs and three songbooks have brought to listeners rich collections of women's international music as well as the beloved rounds and chants for which they are perhaps best known around the world. Their music has inspired the formation and repertoires of song circles and choruses of all ages around the globe, and their music and performances have kindled a sense of joy, strength, healing and empowerment in several generations of listeners.
Susan has also been a dedicated teacher -- inspiring singers as a private vocal coach, leading many singing workshops and weekend vocal retreats, and presenting at National Music Educator Conferences, Music and Healing Conferences and colleges/universities nationwide. She has also been a guest faculty member at the Tuscany Project, an 11-day vocal intensive in Umbria, Italy.
Her deepest sanctuary has always been in Singing Circle's with women -- facilitating heart connection, healing, peace, empowerment and deep communion through vocal unison and harmony. Now leading women in song over zoom during this pandemic time, her deep belief remains strong that singing helps connect us to our soul, soothe our anxious spirit, renew and replenish our vitality, heal our ragged hearts, and realign with the power of hope. And singing helps us envision, intend, and strengthen our resolve to create the more just world we want to live in!
Setting an intention that each Sing be a healing and inspirational musical experience for everyone, she brings to her teaching a deeply rooted sense of compassion, an eclectic musical experience, a heartfelt belief in the transformative, healing power of music and a hefty love of laughter.
About Heather Houston:
Heather Houston is passionate about uplifting hearts, freeing voices, transforming lives, and building strong, loving communities through the power of singing. She spreads her magic through her 20+years of international song circle leading, private vocal coaching, and her online offerings - The Art of Mindful Singing, S.H.E. Sings, and Sisters in Harmony Song and Chant Leader Training. You can now join her every Monday night on Zoom for a 2-hour Sisters in Harmony Global community song circle with guest artists!
Heather recently released her second solo album Sisters of the Moon which features the ethereal voices of her 40-voice women's choir Yala Lati. Her first solo album, Prayers for the Water is a ZMR Top 10 album. You can find Heather's music on all of the streaming platforms and for download on her website.
Before Covid times, Heather was one of the featured song circle leaders at the annual Singing on the Edge retreat at the Esalen Institute, Song Village in the Santa Cruz Mountains, SongFest in Los Angeles and Sacred Sound Meets Sacred Nature retreat at Pema Osel Ling. She also offered annual Sisters in Harmony Retreats at Skyote Mountain and Om Oasis in the Santa Cruz mountains and taught a weekly Free Your Voice class to the guests at 1440 Multiversity. She is holding strong the vision of circling and singing together in person one day again soon!