ABOUT LIBANA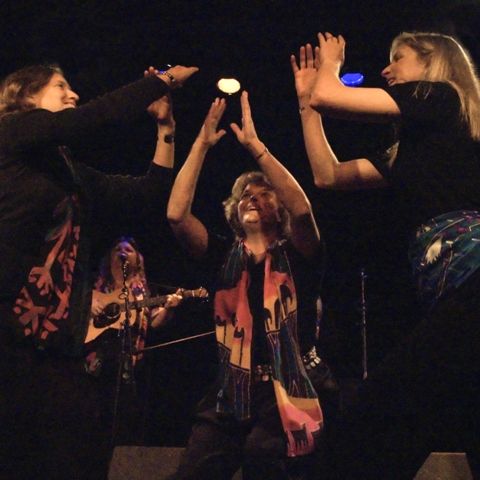 In 1979, a group of women sharing a passion for international music, dance, and women's issues formed the global music ensemble Libana. Inspired by Judy Chicago's groundbreaking exhibit The Dinner Party, Libana took their name from a woman honored by the artist—a 10th century Moorish poet, philosopher, and musician—symbolizing women's creativity, vision and spirit throughout time. 
Comprised of four founding members, another who joined just two years later in 1981, and the "newest" who has performed with Libana for 30 years, the six women of Libana have shared a profound dedication to their artistic mission. In many ways, the intentionality of Libana's own longterm creative community has mirrored the experience of communities of women everywhere on Earth who share music, dance, celebration, life-cycle ritual, food, laughter, and spiritual practice to create deep moments of unity and transcendence in their collective life.
Libana's ten recordings and three songbooks have inspired the formation and the repertoires of songcircles and choruses of all ages around the globe, and their music and performances have kindled a sense of joy, strength, healing and empowerment in several generations of listeners.
From Maine to California, Wyoming to Florida, Ontario to Nova Scotia -- and from Bulgaria to Greece to India to Morocco! -- Libana has traversed the globe for 41 years celebrating the world's women. LIBANA believes deeply in the power of song, the rhythm of the drum, and the spirit of dance to connect people across vast cultural difference. Creating a bridge of the heart, their commitment to the artistic expression of the global community has inspired dynamic cross-cultural understanding, profound healing, and widespread peacebuilding.