WORKSHOPS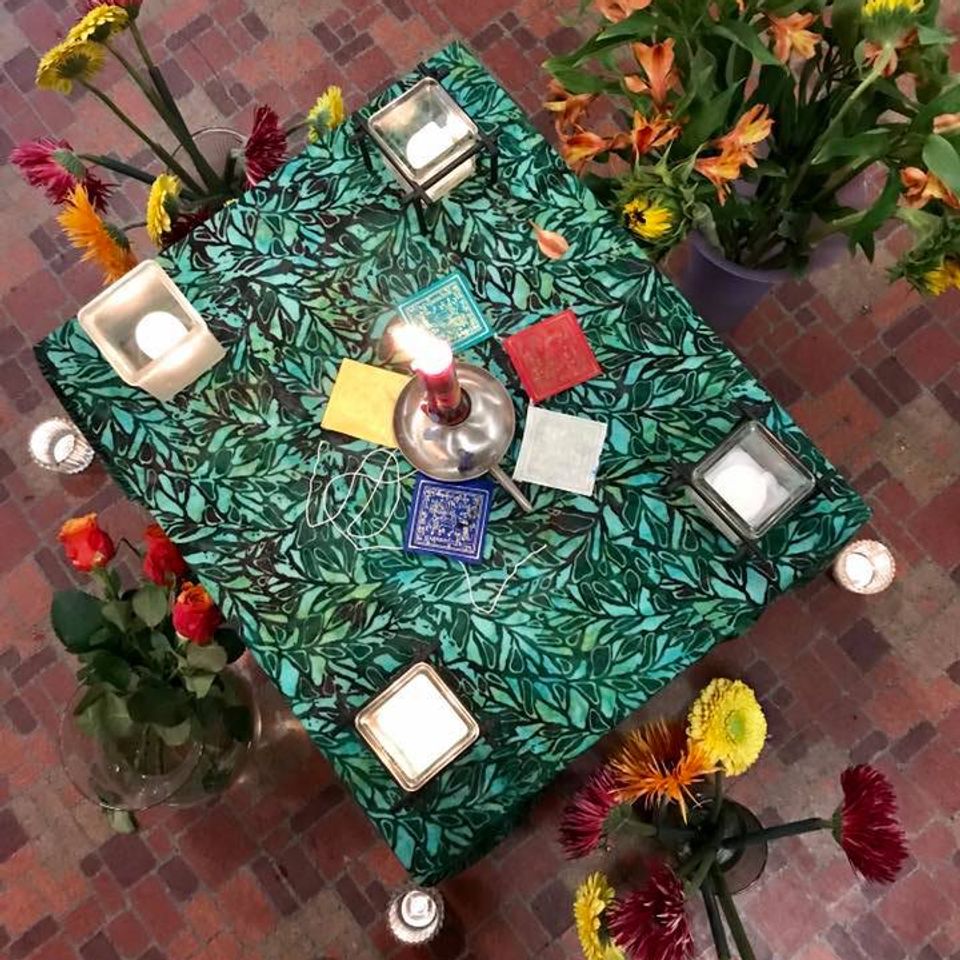 WORKSHOPS with Libana members
Lauded as "the spiritual mothers of song circles around the country", the women of Libana illuminate the spirit and universality of women's experience through the performance of music, song, and dance from around the globe. In addition to Libana concert performances of women's world music, Susan Robbins and Marytha Paffrath offer a variety of workshops to the general public as well as educational programs/residencies to schools and universities.
Susan Robbins is Libana's founder and Artistic Director. Her deep compassion, love of laughter, and heartfelt belief in the healing power of music bring a clarity and brilliance to her performance and over 30 years of teaching. Susan teaches voice privately at her Studio in Watertown, MA, as well as classes, coachings, and workshops from coast to coast.
Marytha Paffrath, Libana's principal percussionist, is an innovative teacher, singer, composer and writer who believes deeply in bringing the simplicity of rhythm and song to the complexity of the world. An accomplished percussionist, Marytha has had the honor of studying with Babatunde Olatunji, Glen Velez, Nurudafina Pili Abena, Layne Redmond, Marco Lienhard, Gordon Gottlieb, and Ubaka Hill. In performance she moves with ease between an array of world drums which include dumbek, djembe, tapan, naqqara, bombo, riqq, and frame drum.
WORKSHOP OFFERINGS:
* SINGING OURSELVES HOME:  A VOCAL WORKSHOP WITH SUSAN ROBBINS AND MARYTHA PAFFRATH  
Throughout time and across all cultures women have gathered to sing, to celebrate and give expression to the intricate cycles of their lives and the world around them.  Recent years have seen a powerful resurgence and renaissance of community singing and ongoing song circles.  As we create a musical community, we will interweave body and mind relaxation and breathing techniques with vocal and listening skills.  As a group, we will experience the power of unison singing, the exhilaration of harmony, and the profound spirit of collectively created sound and rhythm.  We will learn rounds, songs, and chants from around the world.  We will dance, laugh, share silence and a sense of musical wonder, rekindling the transcendent joy inherent in making music together.  Women new to the exploration of their voices as well as seasoned singers are all warmly welcomed to join Susan and Marytha for the lively, humor-filled, grounded guidance for which they are renowned from coast to coast.  
Available for just women or for a mixed group; also available in a half-day, whole day or weekend format.
Workshop Participants say:
"I was blown away by the power of their presentation.  I loved the mix of technical skill, spirituality and social awareness."   
 "I've been with you many times before and it is always intense joy!" 
"I found such a sense of transformation—magic really—in your workshops. You have our deepest gratitude for the spirits you carry, the gifts you bring, and the magic that restores us to human dignity." 
"Your humor, lightness, and wonderful way of co-facilitating, combined with the passionate, professional, informative love for your work, created a safe, loving, fun, and compassionate space to be in." 
* ROOTS AND RHYTHM ~ AN INTRODUCTORY AFRICAN DRUM WORKSHOP FOR WOMEN WITH MARYTHA PAFFRATH OF LIBANA  
    "Everything in the Universe has rhythm; everything dances" --Maya Angelou
Throughout time and history women have played drums for ceremony, ritual, celebration and the demarcation of seasonal and life passages. Many people believe that women are responsible for the first drums of West Africa. For many centuries, despite women's core contribution to the world of rhythm, drumming was kept from women, eclipsed by static cultural and spiritual beliefs. But in the last two decades women have been returning to the drum, reclaiming the rhythmic birthright to which we are all entitled as vibrating cellular beings.
In this introductory workshop we will learn age-old rhythms of West Africa and the African Diaspora, focusing on technique, the language of the drum, as well as rhythm fun and playing in community. This workshop is geared toward beginners, women who have no drum or musical experience but would like to literally try their hand at it. Teenagers 14 or older are also welcome. Please bring an African style drum, (djembe, ashiko, or conga) and a rhythm-ready heart. (some drums may be available to rent for a small additional fee).
Workshop Participants Say:
"Your energy is golden!"
"…very invigorating, connecting, and musically and spirit-fully empowering and fun!" 
"This group is too much fun to even hope to sum up in words!" 
"It spoke to my soul and reminded it that life is all about joy." 
* COACHINGS FOR EXISTING VOCAL ENSEMBLES 
Past Coachings include:
Boston City Singers (Dorchester, MA), Calla Lillies Women's Chorus (Marblehead, MA), Christmas Revels Chorus (Cambridge, MA), Voices of the Heart Chorus (Portsmouth, NH), Trillium Ensemble (Port Townsend, WA), Kaia (Bloomington, IN), Workman's Circle Yiddish Chorus (Brookline, MA), and Lyrissa (Staunton, VA).