SUPPORT LIBANA!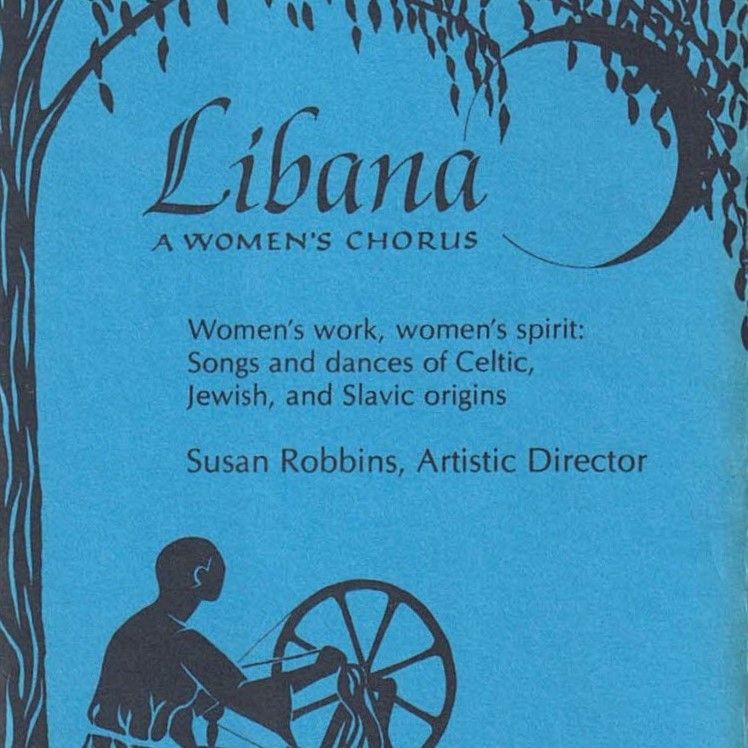 Dear friends,
The Earth teaches that the seasons turn from spring to summer, fall to winter, and round to spring again. As we emerge from these recent retreative pandemic years, Libana is simultaneously immersed in our past, present and future!
Our Past. . .
Our deeply detailed and illuminating archiving process moves along, evolving into a multiyear focus. We remain thrilled that this process will result in Libana's papers and media being at their permanent home at Radcliffe's Schlesinger Library and Harvard's Loeb Music Library! Much progress has been made, and we appreciate your enthusiasm and support as we continue to engage with putting the final unfiled papers into the 22 boxes of our organized herstory. Hundreds of cassettes and videos documenting our musical, international touring life are being diligently listened to and methodically annotated. Archiving is a bit like opening a treasure chest. Each paper, cassette, or DVD represents the energy of a life experience . . . a concert somewhere in our farflung world, a heart-connecting cultural exchange with one of our many music, dance, or language coaches, a unique adventure in the Bulgarian mountains or Sahara Desert, or a special community event full of meaningful ritual moments. At the heart of all these decades of experience is the sound of Libana – the sound that has been the medium through which we express our hearts, our community and our powerful commitment to the women of the world.
Our Past Meets Present. . .
I am sure that some of you who have been supporting Libana through the decades attended one of our early concerts in Cambridge (MA). It was there that we first shared exhilarating songs from women around the world (remember, this was way pre-internet!), played fiery instrumental international folk melodies, and wove Balkan line-dances up and down the aisles as we sang. Listening again to our music from the early 1980's has inspired us to bring that youthful, dynamic, exuberant power of our large group sound in live performance to our current listeners.
In collaboration with our longtime engineer and extended family member Alan Mattes, we are beginning work on a new Vintage Libana CD!  Your generous contribution will support both the creation of this compilation, as well as our ongoing archiving journey.
The excitement and energy are palpable in the sound of those early concerts, as we forged the spirit-filled musical path of Libana for decades to come. Live recordings of these performances enabled us to release our first professional cassettes (fondly referred to as the "white tape" and the "blue tape") – sonic reflections of that inspired, pioneering, powerfully feminist era. We will compile the best performances from the two vintage cassettes, apply the miracles of modern sound technology to the restoration and audio refinement of music that was recorded 40 years ago, and create a vibrant new recording to bring to the world.
We can't wait for you to hear this music! Be a part of making this happen!
Our Present Meets Future. . .
After a lengthy hiatus, we have at last begun to sing again. It has felt difficult to not have our collective voice available to offer music to the world during these incredibly stressful global times. Since the beginning of the pandemic, with so many vocal ensembles unable to sing together, I have been offering group Sings for Women over Zoom. . . using the technology available to unite women from around the country (and sometimes from around the world) in singing rounds and chants for hope, light, healing and peace. As Libana now begins to meet again, we find ourselves singing many of these same new songs – deepening our dedication to honor, listen, and respect our Mother Earth, to strengthen the web of love that connects us, to create peace in our daily lives and communities, and to imagine the just and light-filled world we want to live in. This music is helping us reconstitute our energy and vision, and reawaken our innate creativity. As we look to the future, we know that Libana's voice will continue to be heard. . . using our sound to bring the spirit, wisdom, and soul of the Sacred Feminine to help heal and balance our challenged world – just as Libana has done for over four decades.
"Another world is not only possible, she is on her way. On a quiet day, I can hear her breathing.She is on her way." –Arundhati Roy, Indian writer, human rights and environmental activist
We hold immense gratitude for the myriad forms of support you have shown us over the decades. Your generous tax-deductible contribution now will continue to carry us from the past, through the present and into the future!
With the peace of the approaching Winter Solstice in our hearts,
Susan Robbins, Founder and Artistic Director of Libana
* * * * * * * * * * * * * * * * * * *
PS. Libana's beloved CD, Through the Darkness ~ Songs for the Winter Solstice and beyond. . .  is a special seasonal gift of hope and beauty. Please consider purchasing copies this year (as well as other CDs and songbooks!) to give to your friends and family. All of Libana's music and songbooks are available in physical copy or to download 
PPS. Susan Robbins will be offering her beloved annual Winter Solstice Sing for Women, Singing into the Heart of the Dark, again this year on zoom. 2 evenings: Tuesday, 12/20 (Solstice Eve) or Wednesday, 12/21 (Solstice night). Click here for registration details and more info.