Journey to Morocco ~ 2013!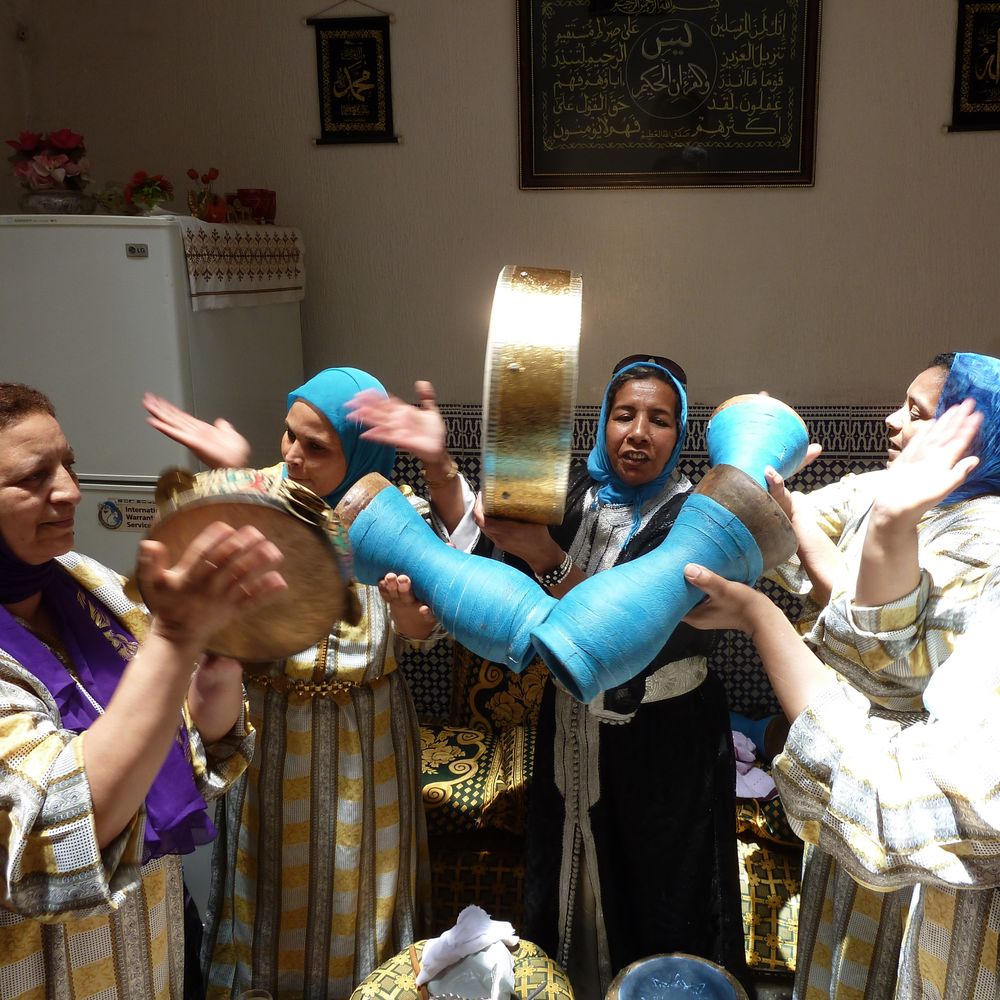 Buoyed by the expansive generosity and blessings of our global village of supporters, Libana performed, sang, drummed, and danced our way across the profoundly beautiful landscapes of Morocco in June of 2013. We were warmly welcomed everywhere and greeted with open-hearted song, copious amounts of mint tea, and a desire to connect. Never have we experienced the power of cultural diplomacy so personally and deeply as in the living rooms of Morocco—one song, one rhythm, one dance at a time.
As the first Americans invited to the Tarab Tanger World Music Festival in Tangier, we were enthusiastically and energetically embraced by the audience gathered to hear us. It was a thrilling night for us, and was indeed a highlight of Libana's almost 35 years of concertizing! In a beautiful outdoor venue, amidst the energizing crosswinds off the Mediterranean and Atlantic, with an amazing sound system, lighting and full video screen, and a profoundly welcoming and exuberant full house of Moroccans, Libana sang and danced our hearts out and received two different standing ovations during the course of the evening!     
Click here to watch video highlights of our Festival performance
Earlier that week, women's creativity filled the hall as we shared a US Embassy sponsored concert with the virtuosic Moroccan Arab ensemble Ikhlas, celebrating the longstanding diplomatic friendship of the US and Morocco.
From joyfully participating in a powerful ancient rain ritual with Amazigh women in a Saharan oasis village, to being elevated by the ecstatic percussion driven chant of Sufi women in a tiled living room in Fes… from immersing in the trance-inducing healing rhythms of Gnaoua women in coastal Essaouira, to learning the delicate finger movements of a Guedra dance one late desert afternoon—the depth of cultural sharing we experienced with the women of Morocco was utterly inspiring and transformational.  
Our travels infuse our performances with song and story, and help widen the hearts of us all. We eagerly anticipate sharing with audiences the electrifying qraqeb, bendir and tea tray polyrhythms, powerful Amazigh and Arab chants, and the collective soul of the Moroccan women who touched us so deeply. In honoring the myriad ways that women around the world uphold the heart, soul and wellbeing of their culture –with their artistry, commitment to community, and love of the land they call home—we honor our oneness. 
Our deepest gratitude to all who supported Libana's journey to Morocco—as musical emissaries of the inclusive, tolerant, respectful and openhearted America we believe in. 
It is hard to imagine having gone to Morocco without Addi Ouadderrou, a native Amazigh from SE Morocco and our neighbor here in the Boston area (visit Moroccan Caravan!)—who accompanied Libana as our friend, guide, translator, and cultural connector. Our love and appreciation to this incredibly knowledgeable man with a big heart, a wide open view of the world, a great sense of humor, and a deep dedication to sharing his culture with whomever is receptive to its wisdom and riches. 
And of course, what international adventure would be complete without our extended family traveling with us? Our love to Endre Jobaggy, Alan Mattes, Jared Mattes, and Lexi Ugelow (and also to you Aaron Mattes!) for being such excellent photographers, videographers, all-around helpful lifters and packers, and good-natured, open-spirited adventurers!
Over the years, each of Libana's amazing opportunities to travel as cultural ambassadors around the world was made possible through the generous support of our family, friends, and followers. Your belief in Libana's mission of peacebuilding though the arts, and the creative power of women worldwide can help us continue that artistic mission into our upcoming 35th anniversary season! 
Thank you and Salaam Aleikhum!
Libana is a 501(c)3 non-profit organization. All donations are tax-deductible to the extent provided by law.